Friday, February 24, 2017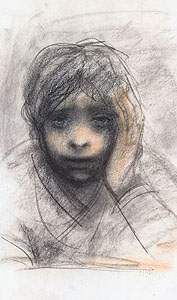 INTENSITY
Intensità. O nulla. Madoi era sempre in attesa di quel qualcosa che valesse la pena di emozionarsi, di arrabbiarsi, di confrontarsi con dolori fortissimi o gioie immense, in entrambi i casi non necessariamente dovuti o provenienti da fatti realmente accaduti o ancora in essere o in previsione in un futuro. Tutto era già vecchio, passato, dimenticato, non vivibile. Rancori, odi, gioie, soddisfazioni, se di ieri non contavano pił. Neppure i ricordi belli, brutti, nulla. Non vi era tempo, nel suo vivere, non vi era spazio nella sua anima perennemente affollata di pensieri e colori , che null'altro poteva esservi, come in una casa piena di vecchi mobili, vecchie cose inutili, ostacoli disturbanti che lo facevano solo inciampare e non gli permettevano di far scorrere lo sguardo verso il suo personale infinito.

Intensity. Or nothing. Madoi was always waiting for that something worth of the strongest emotion, welcoming with the same pathos­like attitude the most compelling turmoil, the most challenging anguish and despair or immense joy, not necessarily due to or resulting from real facts past, present or forecasted for a near future. Everything was defined old the very nano second after its appearance and consequently forgotten, cancelled, not liveable. Rancor, hate, joy, satisfaction, nice or sad memories, if dated yesterday were a useless burden. There was no time, in Madoi's living, there was no space in his soul always full of thoughts so lively and intense, that nothing else could be hosted, like in an house full of old furniture, of old and useless things, unsettling obstacles in his perennial wandering to/from present and future and he couldnt risk to trip over them or to have the sight blocked while glaring towards his personal infinite.